Google has announced even more #GoogleWorkspace features to empower all the ways that work happens in an ever-changing world. Learn how Google Workspace is creating a work experience that enhances collaboration and strengthens human connection
Since we launched Google Workspace last October, we've heard from many of our customers—from global enterprises to small businesses—about the new ways they're connecting, creating, and collaborating, often across living rooms, time zones, and continents. This response propels us on our mission to build for the future with a solution that's flexible, helpful, and inspires innovation. We're proud to support the millions of customers and billions of end users who trust Google Workspace to bring their own future visions to life.
Today, we're excited to announce new innovations in Google Workspace that will further empower all the ways work happens—and deepen its impact—in an ever-changing world. These updates include a frontline worker solution, a set of features to help people find more time and focus, and powerful tools for strengthening collaboration.
Learning from our own transformation
At Google, like many of the organizations we support, we've been in a state of change, experimentation, and transformation this past year, as we reimagine what work will look like in the post-pandemic future. According to a Gartner survey, 90% of respondents plan to allow employees to work remotely at least part of the time even after the COVID-19 vaccine is widely adopted. This hybrid blend of at-home and in-office work will become the norm for many businesses.
As a company, we've been focused on how we can make this new hybrid work model support collaboration and innovation, and enhance inclusion and wellbeing for Google employees. We're especially interested in what we call collaboration equity, or the ability to contribute equally, regardless of location, role, experience level, language, and device preference. We've been experimenting with ways to bridge the gap between the in-person and the "somewhere else" by pushing our technology and the physical spaces of our campuses to be more inclusive. We're looking for ways to maximize participation everywhere we can—from personal desk space to conference rooms to group collaboration areas.
Google Workspace is at the nexus of Google's own transformation. After all, Google Workspace was built in the cloud to power flexible, real-time, anywhere creation and equitable collaboration. Whether it's with our Google Meet Series One hardware kits that enable safe, touch-free meetings and use Google AI to create immersive and inclusive experiences for all. Or the ways we help people focus their time and attention with intelligent, proactive suggestions that thoughtfully connect distributed content, people, and conversations. Or the features that promote inclusion, like live captions in multiple languages, so that everyone can participate effectively in video meetings.
It's all part of Google Workspace's mission to enable a hybrid work experience that enhances collaboration, strengthens human connection, and increases wellbeing for people—wherever they are and however they work.
And we're inspired to hear how Google Workspace has been at the center of our customers' evolving work plans, helping to forge human connection during a time of change for businesses like Sony Pictures Imageworks and Airbus.
"As we look to the next chapter in the future of work, Google Workspace will continue to keep us connected, wherever we are. Google Meet helps us build trust and relationships, not only within the studio, but with a worldwide network of talent. And Chat is our go-to for sharing ideas and feedback during production meetings in real-time. Google Workspace is how we work together to create together!"
– Mike Ford, VP, Software Development and Systems Engineering at Sony Pictures Imageworks
"Airbus has spent the past year thinking about what it actually means to return to work and we're looking to support greater flexibility with Google Workspace in a leading role. In 2020, we held 5.6M Google Meet sessions and we now have more than 70,000 shared Drives where people collaborate. Google Workspace has changed the way people work at Airbus and that will continue as the solution empowers the hybrid work reality."
– Andrew Plunkett, Airbus Vice President Digital Workplace
New ways to help businesses make an impact in changing times
Today, we're announcing new tools and features to help people make the most of their time, collaborate equally, and deliver more impact. We're also announcing new security tools with Assured Controls and expanded Data Regions coverage. Assured Controls will allow customers to make decisions about how to control provider access, while expanded Data Regions coverage helps customers choose where their data is geographically located at rest.
Enabling collaboration equity on the frontlines
From nurses to grocery store associates to warehouse employees, essential frontline workers have played a crucial and often heroic role during the pandemic. Despite their importance, those on the frontlines seldom have access to the same collaboration and communication tools that keep knowledge workers informed and connected. As a result, frontline workers often resort to their own personal devices and apps to get the information they need, when they need it.
In the coming weeks, we'll be launching Google Workspace Frontline with these challenges in mind. This will open up communication and collaboration channels between frontline workers and corporate teams in a way that's safe and secure. Workspace Frontline is a custom solution that includes communication and collaboration apps like Gmail, Chat, Docs, Drive, and more, as well as business-grade support and security features like advanced endpoint management that help keep a company's data secure.
We've also made it easier for business teams to build custom AppSheet apps directly from Google Sheets and Drive, so that frontline workers can digitize and streamline their work, whether it's collecting data in the field, reporting safety risks, or managing customer requests. By closing the gap between the frontline and the corporate team, we're giving frontline workers secure access, on any device, to the information they need to be at their best.
Managing time and attention
To help people save valuable time, we're excited to share that using Google Workspace with Google Assistant is now generally available. You can ask Google what's next on your work calendar, to quickly join meetings, or to send a message. Google Assistant is currently available for Google Workspace on supported mobile devices and is in beta for smart speakers and Smart Displays, like Nest Hub Max. Google Workspace customers can learn how to enable this feature for their users here.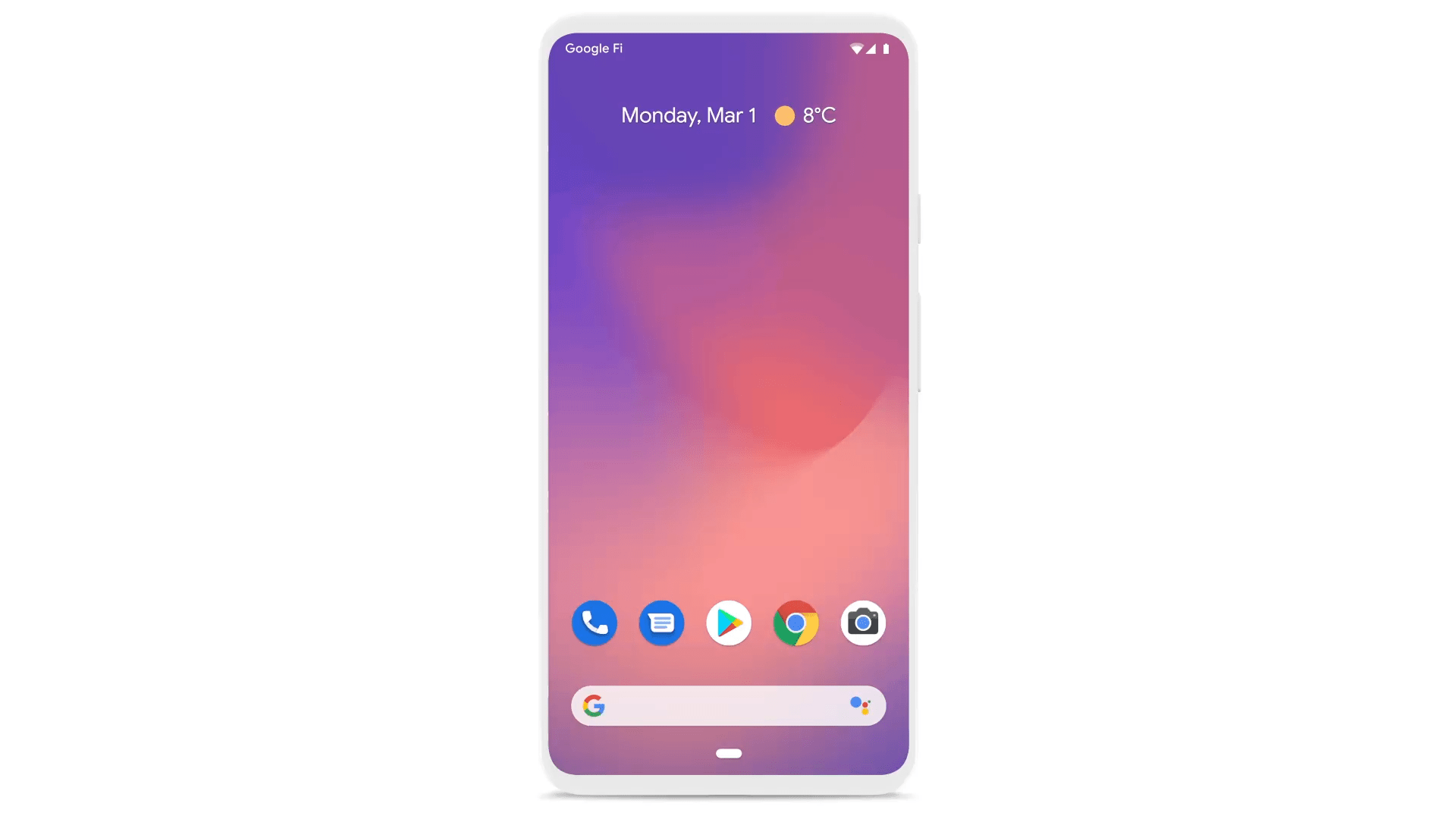 Elsewhere on the time management front, a key trend we're seeing in today's workforce is the juggling of professional and personal responsibilities, with many employees now working in "sprints," like two- to four-hour blocks of time instead of the traditional workday. As more businesses embrace a flexible, hybrid model, we expect this trend to continue, and we'll all need tools to help us achieve better work-life balance and make the best use of our time.
In the coming weeks, we're releasing an integrated set of features in Google Workspace that help people easily share their work hours and location, while also finding more time to focus on what matters most. Features like segmentable working hours, recurring out-of-office entries, and location indicators let employees share their availability and location with their colleagues. Meanwhile, a new event type—Focus Time—lets people minimize distractions by limiting notifications during these event windows. All these availability and location indicators will show up seamlessly across Google Workspace, as teams engage with Calendar, Meet, Chat, and Gmail. We'll also be delivering Time Insights to Google Workspace users (visible to the employee only, not their manager), so that employees can assess how they're spending their time against their own priorities.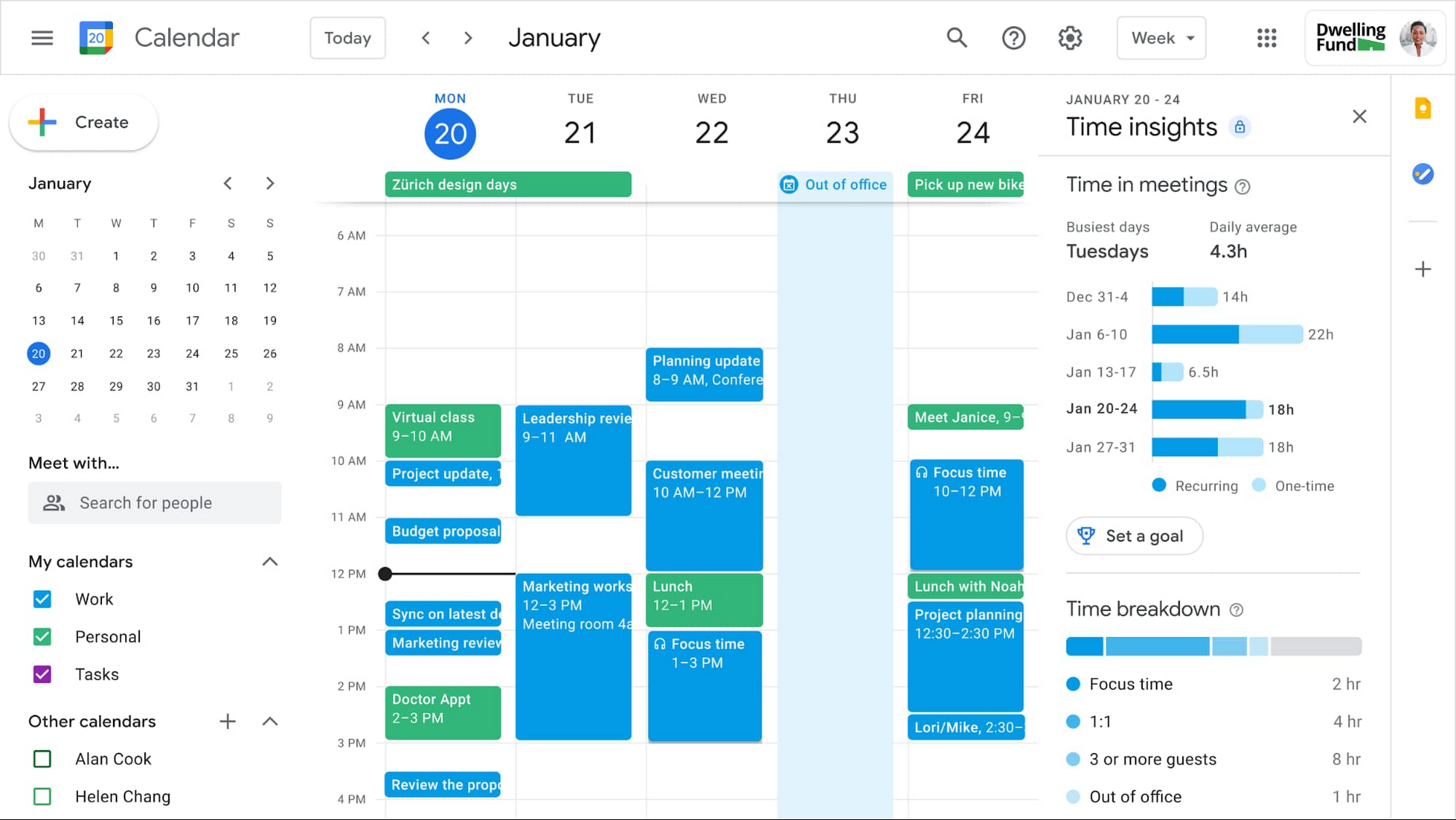 Strengthening collaboration equity for all
Ever since we pioneered real-time document editing fifteen years ago, collaboration has been a cornerstone for Google Workspace. In the coming months, we'll make collaboration more equitable and accessible in a number of ways. First, we're creating second-screen experiences in Google Meet for those using a mix of devices to host their meetings, like Google Meet hardware for those in conference rooms and Nest Hub Max for those at home. With new second-screen capabilities, people can present and fully participate in the Google Meet experience, including with chat, polls, and Q&As, from any device, no matter where they are.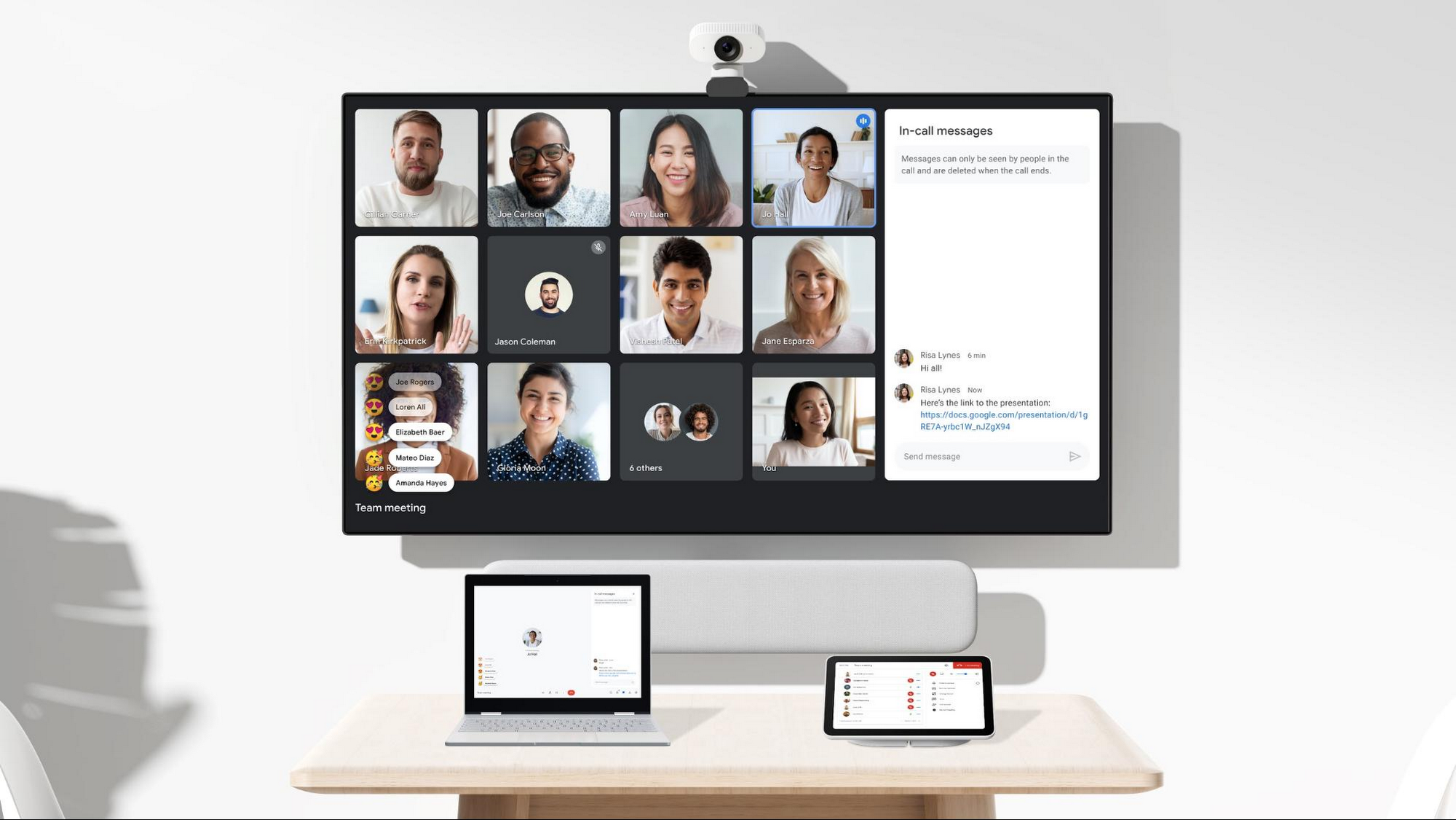 And specifically for those joining meetings from their mobile devices, we're making it easier to have a bigger impact on a smaller screen. We're rolling out mobile tile view so you can see more people at once, while split-screen and picture-in-picture support on Meet mobile will help you seamlessly chat or browse your Gmail without missing the visual thread of a meeting. Mobile support for background replace, Q&A, and polls will also help you stay productive and connected on the go.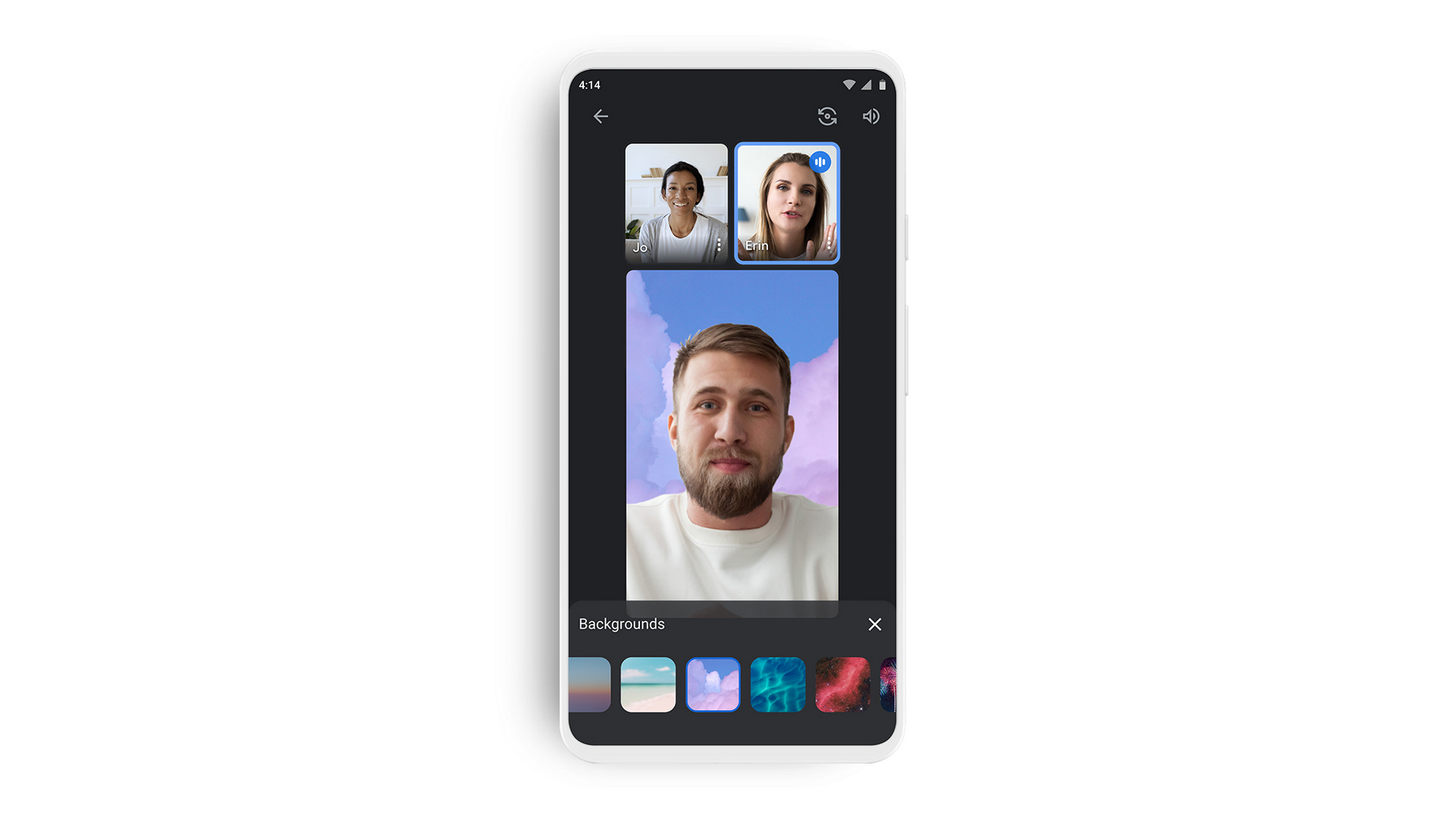 Live streams will also become more powerful and inclusive in Google Workspace with the addition of Q&A, polls, and live captions (in English, Spanish, German, Portuguese, and French). And because we recognize how organizations are connecting across different groups of people, we're also enabling live streaming across multiple Google Workspace domains within the same organization.
Finally, to give teams even more ways to connect and collaborate, we're adding Chat, Jamboard, and Calendar to Google Workspace Essentials.
Building the future of work—together
If there's a mantra that captures the last year of work, it might be "flexibility in the face of change." It's how our customers and our own employees have bridged the physical distances to continue making an impact in a rapidly changing world. As work continues to evolve for all of us, Google Workspace is committed to providing a solution that's flexible, helpful, and that fuels innovation. We're also committed to enabling collaboration equity wherever and however we can. At its core, this has been our mission for more than a decade and we're excited to partner with our customers and users to continue bringing it to life.
Courtesy: https://cloud.google.com/blog